It's meet season..
and you know what that means.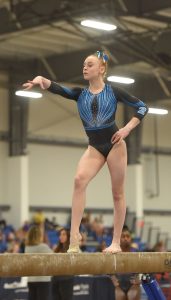 Meet season arrives and with it, gymnasts who start dealing with a lot of nerves, feel stressed and lose or become inconsistent on skills they worked so hard to master.
Coaches and parents sometimes feel at a loss as to how to help them.
We all want them to feel confident. And that's what they want too.
When you ask a gymnast how they want to feel in a competition, they almost always say, "Confident."
Confidence is something we all seek because we believe it is the key to our success.
And in some ways it is. But not in the way you might think.
Most of the time when we want to feel confident, we look to our past for proof that we can do something.
I have done this in practice, I know I can do this here.
I have competed tons of times, I can do it again.  
But here's the problem. Your gymnast's brain knows that they aren't in practice.
And no matter how many times they have competed before, each competition feels like a brand new experience. They always tell us, "Yeah but, this is my first meet of this level, or at state, or in this venue or with this new skill…"
So if we can only feel confident about what we have accomplished in the past, they may not be able to generate confidence in this new experience, the new competition, this particular meet day.
So what's the solution to compete confidently?
True confidence doesn't come from past proof. True confidence comes from belief in yourself.
Belief in how you are going to show up and that you can handle whatever happens.
We teach this to our gymnasts by breaking this down into the pillars of self confidence.
We start with a strong foundation, teaching gymnasts how to have an unshakable belief in their own self worth. Worth that is intrinsic to being a human. We teach them that all humans are worthy of love and dignity simply because they are human.
What they do impact
s others, impacts the world and has positive effects or negative consequences. But it has zero effect on their worthiness as a human being. Their performance has nothing to do with their worth.
Then we teach them three pillars to build on that.
#1. Confidence in themselves to do what they say they are going to do.
They work on building this relationship of trust with themselves in their everyday actions. But once they have built it, they can count on it in a meet. I don't always know what will happen. But I know I can trust myself to do what I say I am going to do.
#2. Confidence in their ability to feel any feeling.
Competition day will be full of the full range of human emotions. Ones they enjoy like happiness, pride, energized, fun, accomplishment. And ones they don't like nervousness, frustration, anger, jealousy, embarrassment and defeat. But when they understand what an emotion really is, have the tools to diffuse the negative emotions and generate the positive emotions, they can go in feeling confident that they can handle all the emotions they will feel on meet day.
#3 Confidence that they will treat themselves well no matter what.
Gymnasts always think they are afraid of what their coach or parents will say or of disappointing them. But at the end of the day, the one voice they can never get away from is their own. When they begin to understand that voice and make a commitment to treat themselves well no matter what – and when they begin to believe in that commitment – they have nothing to fear in competition.
Help your gymnasts become more and more confident this meet season.
When your gymnasts build this strong structure of Confidence in themselves, when they feel confident in how they will show up and how they will handle whatever happens, their entire outlook on a meet changes.
They can relax and enjoy the experience without fear of what might happen. And they show up as their best selves, able to do their best gymnastics.
And that creates calm, confident competitors who hit again and again.
Don't let meet season steal the joy from your athletes! Help them find and practice the tools to be successful!
Article by: Stacie Fletcher of Gym Mindset Academy
For more, check out the Going for Gymnastics Gold podcast or the Gym.Mindset.Academy Instagram for weekly help this month on teaching your gymnasts these mindset principles and helpful ways you can implement it out on the floor.